1080P HD WiFi Baby Monitor with Sound and Motion Detection, Indoor Home Security Camera with Motion Tracking, Temperature Monitoring and Lullaby for Baby/Pet/Elderly (TUYA APP)
Free shipping to eligible country
Brand:

KENTFAITH

Buy KENTFAITH 1080p hd wifi baby monitor with sound and motion detection, indoor home security camera with motion tracking, temperature monitoring and lullaby for baby/pet/elderly (tuya app) online, worldwide free shipping and 30 days return guarantee.

GW50.0048US

SKU:

GW50.0048US

54.99

https://www.kentfaith.com/GW50.0048US_1080p-hd-baby-monitor-with-sound-and-motion-detection-indoor-home-security-camera-with-motion-tracking-temperature-monitoring-and-lullaby-for-baby-pet-elderly-tuya-app
Buy 2 get 5% off, Buy 3 get 10% off, buy 6 get 20% off
Description
* 360° Motion Detection Tracking: Automatically sense and track your baby's movements in 360° in all directions. Compatible with 2.4G networks, you can use Tuya APP to easily control camera pan and tilt, and rotate 355° horizontally and 90° vertically.
* 1080P HD + Super Night Vision: 1080P HD camera lens and IR LED, night vision up to 49 feet (15 meters) in dark environment. Optionally turn off the indicator light, it will not affect the baby's rest at night.
* Sound Detection, Two-Way Audio: 24/7 Live Streaming, Detects When Baby Cries and Sends Notifications to the App, Hears and Soothes Baby with Built-in Anti-Noise Microphone and Speaker
* Data Storage: Multiple security protocols keep your data and privacy safe. Supports Micro SD card (purchased separately) or cloud subscription service (registered via Tuya APP) to record motion detection and watch video playback.
* Temperature monitoring and lullabies: Check the temperature of your baby's room without getting up to ensure your baby is in a comfortable temperature environment. App selectable lullabies to play lullabies from the camera to put your baby to sleep
Shipping
Free shipping to eligible country
Sale
Buy 2 get 5% off, Buy 3 get 10% off, buy 6 get 20% off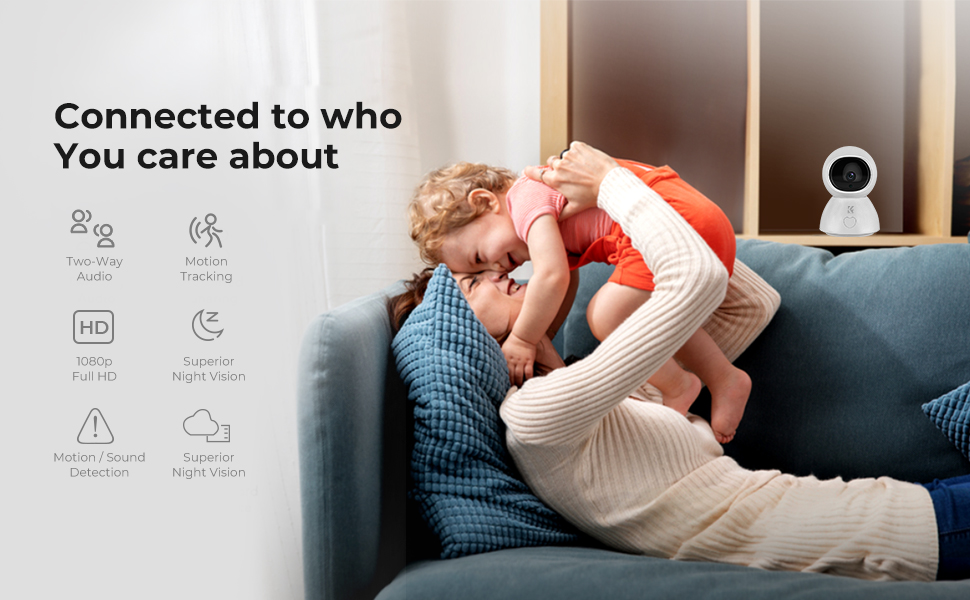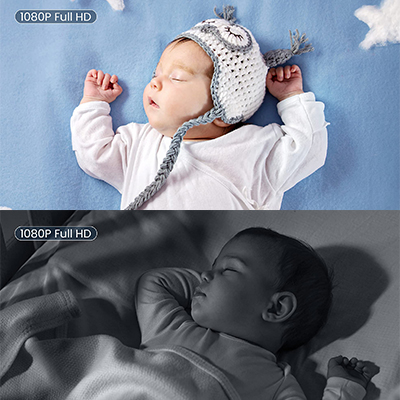 1080P HD
1080P HD resolution with dual filters and infrared switching, allowing you to see your baby's every move in day and night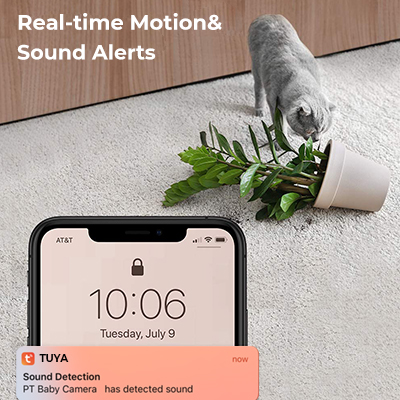 Sound alarm
When your baby needs you, through advanced sound detection technology, Tuya APP will immediately push sound alarm information to you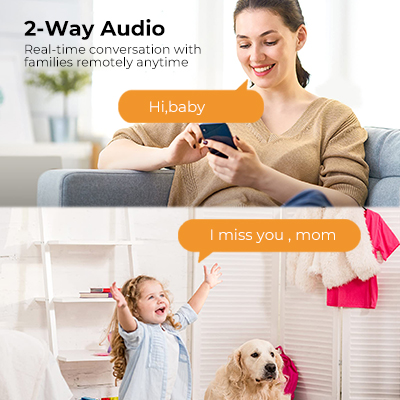 Two-Way Audio
Even when you are not at home, you can see and communicate with your baby through the app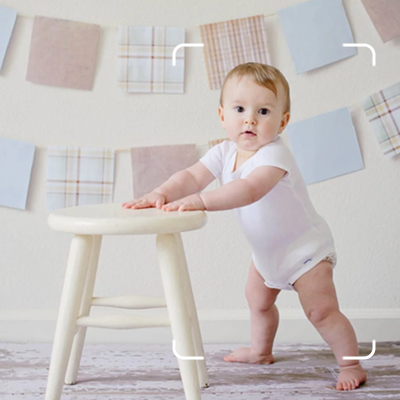 Motion Detection and Tracking
Allows the camera to track your baby's movements with advanced algorithms for horizontal and vertical rotation and movement tracking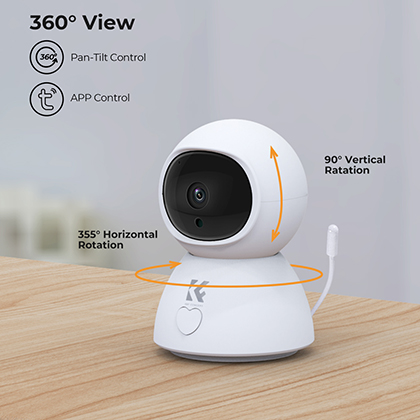 360°View
The baby camera monitoring lens can be panned 355° and tilted 90°, and the direction and rotation can be controlled through the Tuya APP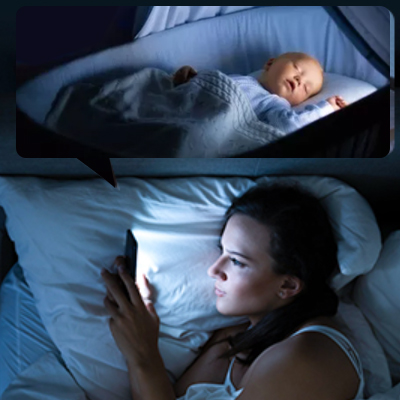 Clear night vision
Baby monitor with clear automatic night vision function, which can turn off the indicator light of the camera, so that you can see your baby sleeping sweetly in the middle of the night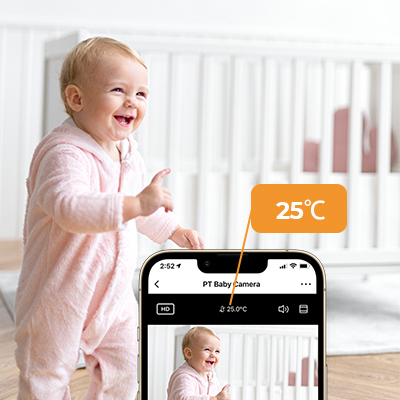 Temperature monitoring
Monitor the temperature of the baby's room in real time throughout the day. You can set it to notify you when the range value is exceeded.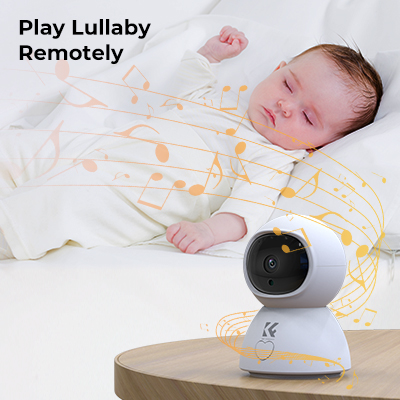 6 Soothing Lullabies
The baby monitor is equipped with 6 lullabies, which can be played through APP operation to help soothe irritable babies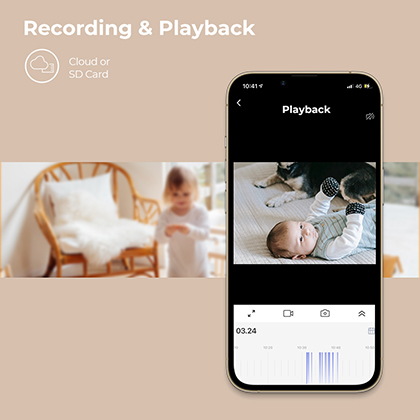 Video recording and playback
Support cloud storage and SD card storage (not included, maximum 128G), you can choose one of these methods for video recording and playback.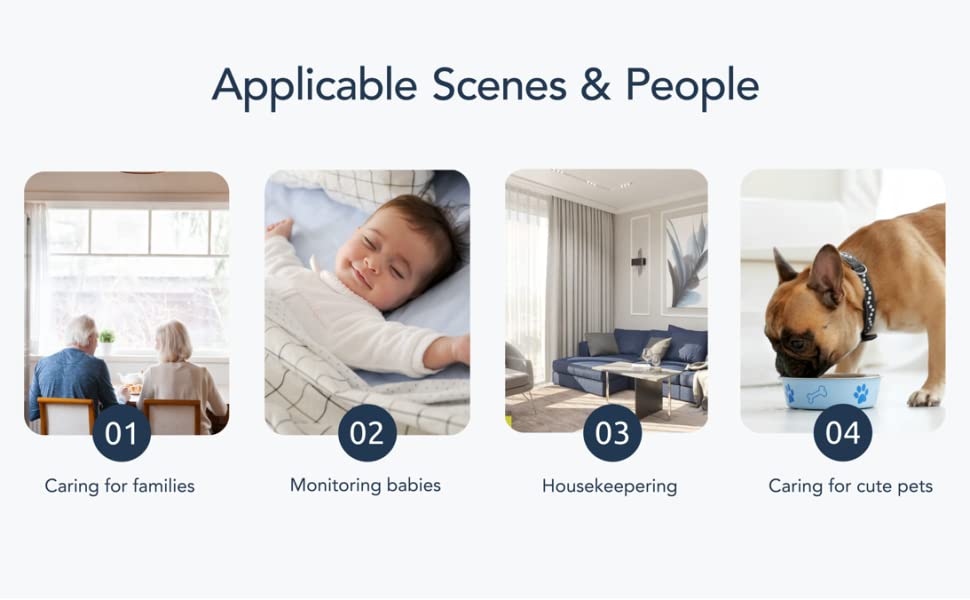 Overall Good Product
I use it for my daughters room to see what she's doing while I'm around the house. Pretty handy. I love it honestly. The picture is clear, I can see easily at night, and it swivels enough to get a good view. My only wish is to have it be able to record so I can go back without having to purchase some sort of storage. Everything is only in real time and precise too so I'm happy overall.
04/04/2022
Baby monitor gives peace of mind
When the baby is napping i was nervous to go downstairs. With this baby monitor/ baby camera i have peace of mind that if the baby wakes up crying or is starting to move i will know right away and can run back upstairs. Its so convenient to be able to see the baby on my cell. It lets me get the laundry done and cook supper. Money well spent
01/04/2022
Amazing employees!
We bought this camera originally to use in to keep an eye on my baby while he transitioned to his crib but we were gifted a second camera that has its own screen so we decided to use this one in the living room. Being a first time parent leaving my baby was HARD but being able to check in on him at home with just a quick glance at my phone was amazing. Not to mention being able to keep an eye on my home and my dog when we were away at the grocery store or something.We had a weird glitch with our camera and I emailed support and heard back from them immediately. They didn't stop until the issue was resolved. The employees are wonderful and truly listen to concerns and take them seriously. 10/10 reccomend!
31/03/2022
Works very well even in a Barn
I installed this camera in my barn to be ready during baby goat season. The 360 feature lets me watch all the kidding areas and the microphone function lets me talk to my life stock guardian dog.Great night vision and details to alert me when the goat goes into labor.
31/03/2022
Best camera for nursery!
Best camera for nursery! looks amazingly clear on your phone, super easy to step up and just very sleek and cute! Definitely recommend 10/10! & price was definitely reasonable.
30/03/2022
1080P HD Baby Monitor with Sound and Motion Detection
Baby Monitor
Screen Size
APP
Video Resolution
1920*1080
Battery
×
Pan Tilt
√
Zoom
5
Infrared Night Vision
√(visible)
Connect Up To
5
Night Light
×
Lullaby
6
Temperature Sensor
√