Baby Monitor 3.2" Video Baby Monitor with Camera & Audio Two-Way Talk US Plug
Free shipping to eligible country
Brand:

KENTFAITH

Free Shipping. 30 Day No Reason Return. K&F baby monitor features a high-quality 3.2-inch HD display, two-way talk, 20h battery life.

GW60.0024US

SKU:

GW60.0024US

86.99

https://www.kentfaith.com/GW01.0277US_baby-monitor-3-2-inch-video-baby-monitor-with-camera-and-audio-baby-kindergarten-camera-two-way-talk-room-temperature-960-feet-range-can-monitor-the-baby-us-standard-vb603-through-night-vision
Description
* 【VOX Mode and Night Vision】--- In Vox Mode, the screen of the baby monitor is black. The screen will turn on when the baby starts crying. The night vision distance is 3 to 5 meters, so you will never miss any moment of your baby and get rid of the hustle and bustle. You'll have your own time to read, watch TV or even enjoy a couple of drinks with your husband. It brings you a lot of fun and enjoyment.
* 【260 meters extra-large radius】--- The 260m signal coverage area (outdoor test) allows you to happily cook downstairs, enjoy the sun by the pool or even have a relaxing barbecue with friends on the terrace, for even more fun and enjoyment .
* 【Two-way Calling and Lullabies】--- High-definition two-way calling function via video camera baby monitor, you are able to not only see, but also hear your baby and talk to your baby. 8 soft lullabies immediately comfort your baby when he starts to cry. It brings your baby timely fun and enjoyment.
* 【Temperature Monitoring and Feeding Alarm】--- The temperature monitoring of the audio baby monitor lets you know at a glance whether your baby will feel too cold or too hot, allowing you to give your baby the most appropriate care.The feeding alarm will help you feed on time, in your hectic daily life and give your baby full of energy to explore the world.
* 【From 4 hours to 20 hours】--- Lasts up to 4 hours with all functions of the baby intercom and 20 hours in VOX mode, from test results. Let you get rid of the chains of wires. Bring you more time of fun and enjoyment. Related Products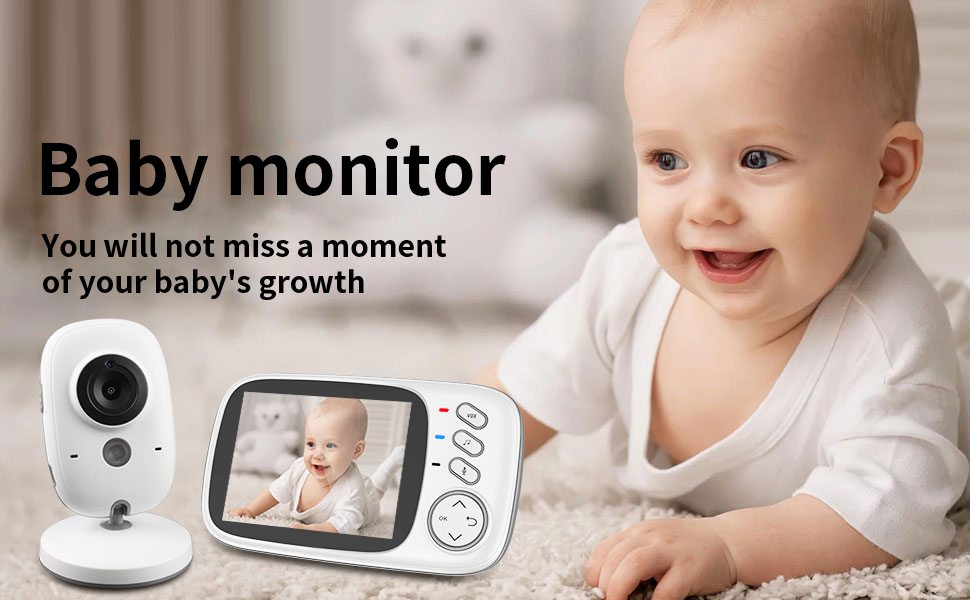 The baby monitor helps you to take care of your baby!
A baby monitor camera and a screen that let your baby sleep soundly are very easy to use, extremely useful.
Screen size: 3.2 inches;
Resolution: 320x240 pixels;
1) The maximum effective range outdoors is 260m / 250ft. It is defined under a certain test condition without interference and in a straight line of sight.
2) Walls, windows, doors and stairs can weaken the signal. As a result, the indoor transmission range differs from the maximum range that was tested under unobstructed outdoor conditions.
3) If you and your baby are on different floors, the camera may lose connection with the monitor.
4) Please Note: The connectivity of this product is a priority. If the signal is weak or there is interference nearby, the device will automatically reduce the frame rate to maintain the connection. In this case, the video may not be fluid enough.
Baby monitors have many functions so that you can avoid worry and fatigue!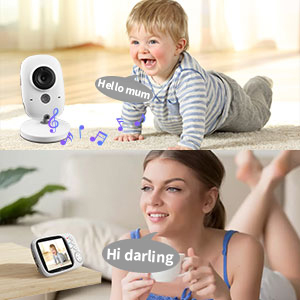 Intercom and lullabies
Baby monitors with the built-in loudspeaker allow you to speak to your baby from another room. When your baby is crying, the mother's voice is one of the most effective ways to comfort the baby. If you use a baby monitor, you will not only be able to see your baby but also hear and talk to your baby.

Baby monitor with different types of lullabies, you can start a lullaby when the baby is crying, which can help the baby calm down faster and help him fall asleep sweetly and quietly.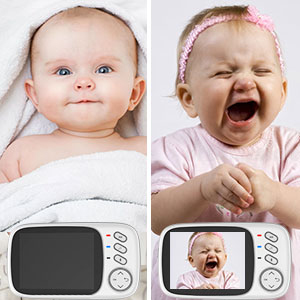 VOX function (VOX)
In VOX mode, when the environment is calm, babyphone will turn off the screen automatically and switch to power saving mode. After the baby monitor has recognized the sound, the screen switches on automatically.

According to the test results, it lasts up to 4 hours in normal mode and 20 hours in VOX mode. So it extends the battery life.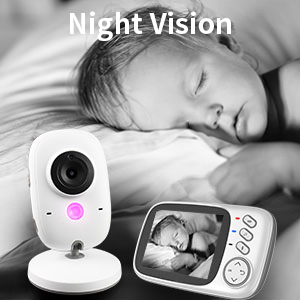 Infrared night vision
Night vision mode allows you to clearly observe your baby not only during the day but also at night. Baby monitors equipped with a high-intensity infrared sensor system can automatically switch to night vision and take clearer pictures in the dark so that you can clearly see your baby's activities in the dark.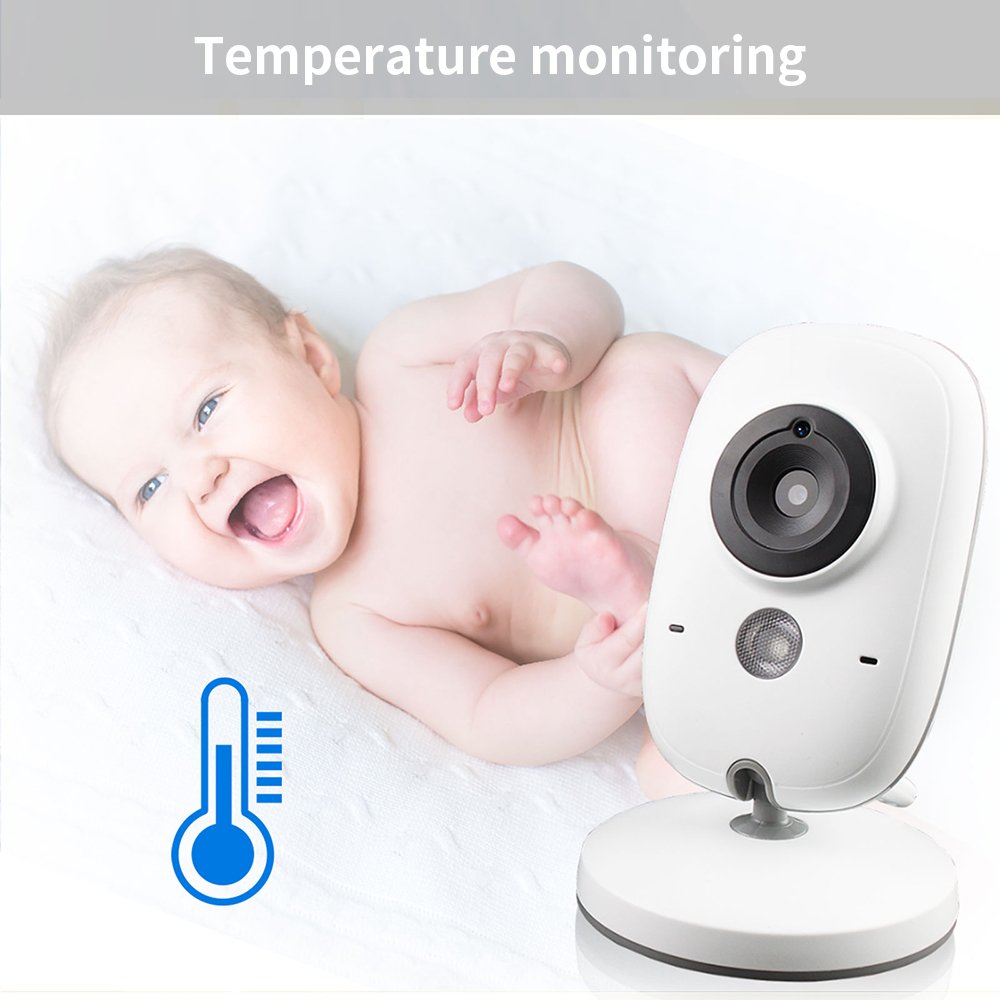 Temperature monitoring
The temperature sensor can detect the temperature change in the baby's room, see at a glance whether the baby is getting too cold or too hot, so that you can give your baby the most appropriate care.

With the temperature sensor on the camera, you can monitor the temperature of the baby room at any time so that your baby always feels comfortable and secure.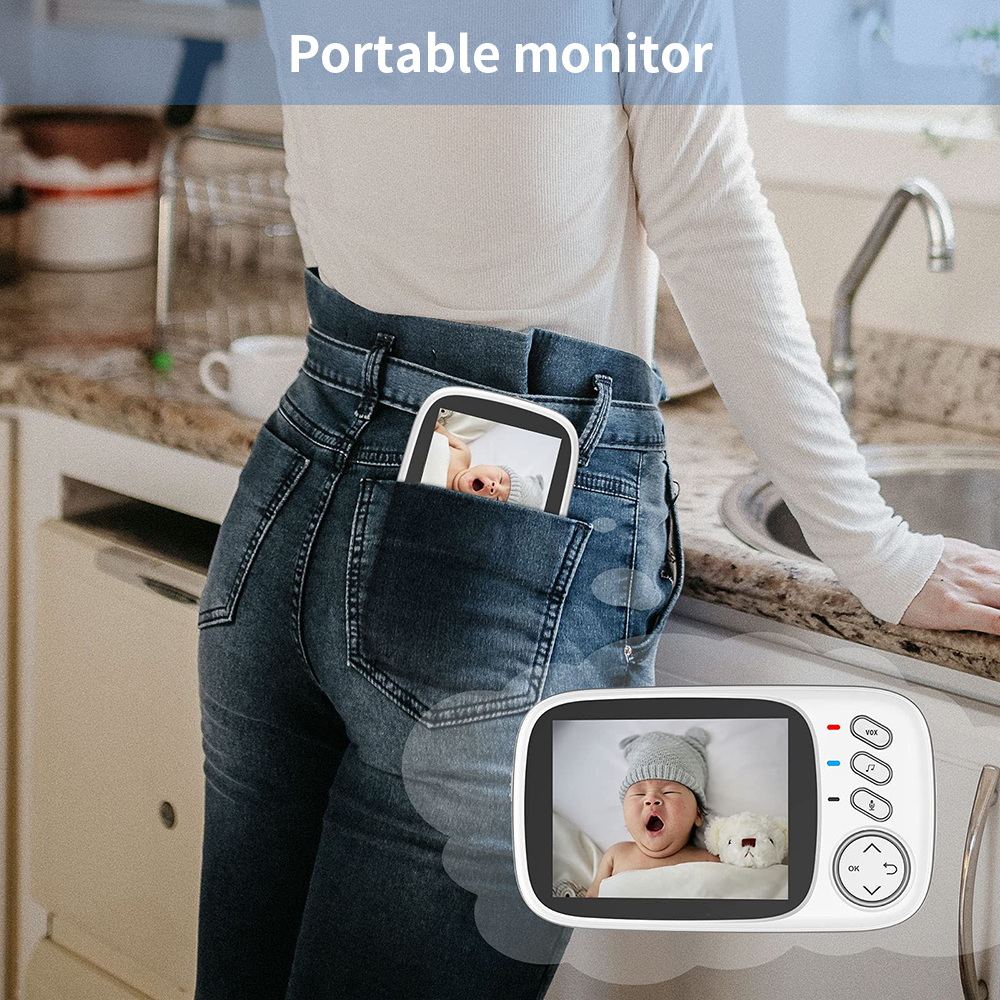 Portable baby monitor
You can take the parent's portable unit with you within the monitoring area so that you can hear, see or talk to your baby at any time.

Many functions are included in the baby monitor, intercom with your baby, room temperature control, calming lullaby.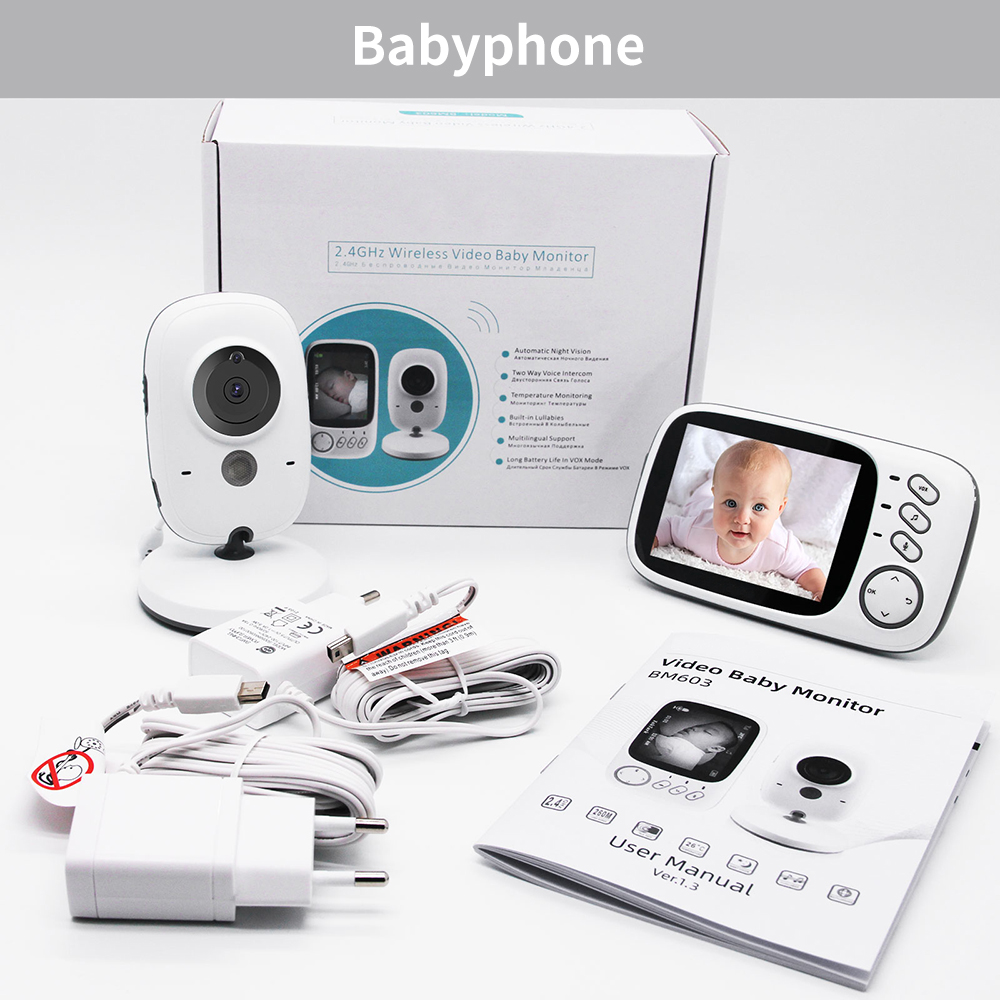 Package includes
1 x child camera (child unit)
1 x baby monitor (parent unit)
2 x power supply units
1 x multi-lingual operating instructions

Note: The baby unit can only be operated with a power cord, like most baby monitors on the market.
This baby monitor is a great option for busy parents.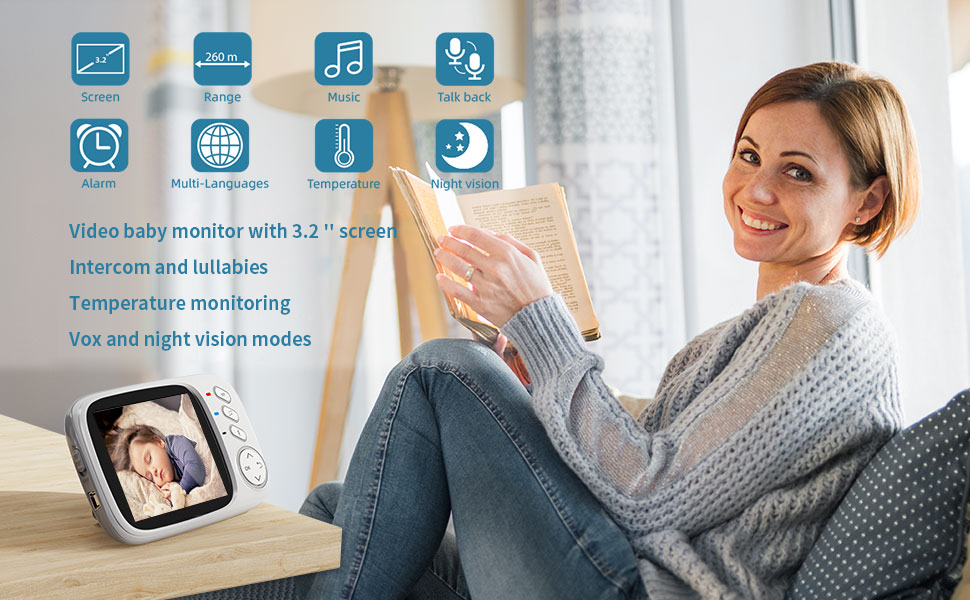 Your baby needs constant attention, but it is impossible for you to be in the baby room at any moment.
That is why our selection of baby monitors gives you the reassuring feeling of knowing that your baby is sleeping safely and peacefully in its cot at all times. Caring for your baby can be stressful. The 3.2 inch baby monitor with camera makes this operation even more convenient. Whether it is a baby, an adolescent baby, or an elderly person, they will need all of your care. When you are busy with work and you may not even be able to enjoy your free time. Therefore, our selected baby monitors give you the opportunity to reduce your anxiety and enjoy your free time! You can move around the kitchen, bedroom and bathroom without worries while relaxing in another room when your baby is happily falling asleep.
Baby monitor helps you take care of your baby!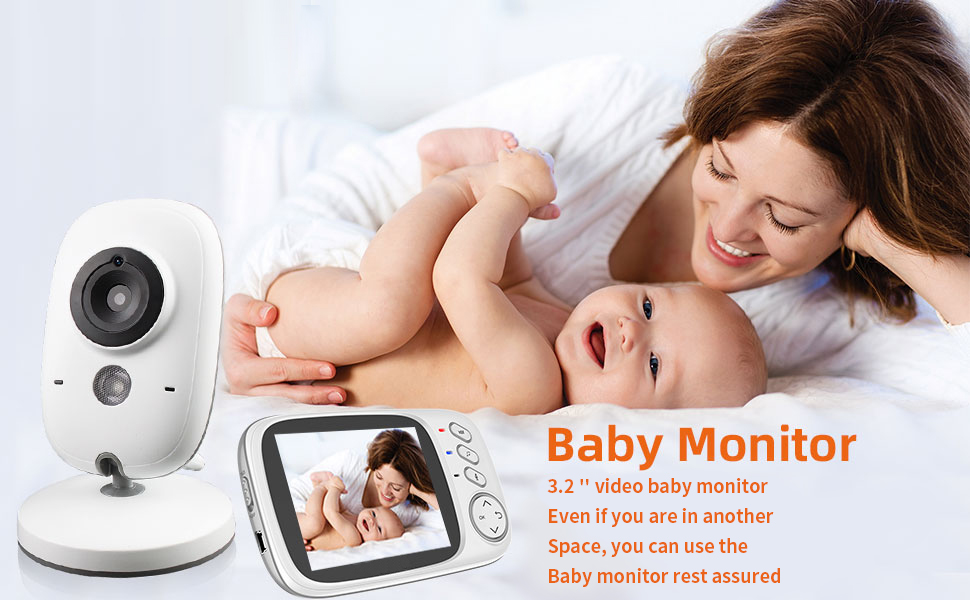 The K&F brand has specialized in baby monitoring for years. Our mission is to create a safe living environment and to make everyday life easier for parents. The child needs constant care, but it is not always possible to be next to him in his room at all times of the day. That is why we have the 3.2 "baby monitor with camera. Your search is 100% satisfactory. Your support is ours big move. Your trust is our top priority.

| | | |
| --- | --- | --- |
| | | |
| | | |
| | | |
| Rating | 20 reviews. | 100 reviews. |
| Price | $86.99 | $86.99 |
| Model | GW60.0024US | GW60.0024UK |
| Screen Size | 3.2" | 3.2" |
| Video Resolution | 320*240 | 320*240 |
| Battery | 750mAh | 750mAh |
| Pan Tilt | × | × |
| Zoom | 1 | 1 |
| Infrared Night Vision | √(visible) | √(visible) |
| Connect Up To | 1 | 1 |
| Night Light | × | × |
| Lullaby | 8 | 8 |
| Temperature Sensor | √ | √ |
Does the job
Does exactly what you need it to!
29/12/2021
Excited to try it!
It came charged so i was able to turn it on and check it out. Seems very simple, but i am disappointed there are no buttons for the volume. It seems very inconvenient. But other than that, it seems great.
28/12/2021
Monitor
Would recommend this monitor. It's everything you need you can hear and see baby clearly and even talk to them!
13/11/2021
Good buy for the money
I love how I can move the monitor around. I don't like that when you play the music you have to listen and can't turn that off. The battery life is not the best
28/10/2021
Peace of Mind!
I bought this to use when my grandson stays over and I love it. Just plug it in and you're set! You can adjust the angle of the camera remotely so there's no need to go into a child's room and possibly wake up him/her. My daughter has the same one and also loves it. It has other features (lullabies, two-way talk) that I haven't yet used, but it's good to know they're available as I may need them when he gets older.
12/09/2021
So far so good!
I was using a ring camera but this is so much betterThe clarity at night is really good, looks very clear and I can see if my baby is breathing and safe. It lets you pan the camera from side to side / up and down, and it lets you adjust for volume, and it has a temperature notificationI needed something that was not wifi since our internet connection at home isn't very strong. This had been nice but it has disconnected a couple of times (easy fix, just turned the screen off and then back on…possibly low battery related?) but for the price I'm pleasantly surprised at the quality. 4 stars because I feel like the video signal should not have dropped, i will have to say I only did the initial charge and then prob got like 10 hours in before it needed to be recharged. I'm happy with it
06/09/2021
Amazing for the prize!
I have 2 other baby cameras and by far this one is the best! I have the $120 price range one and this one tops it! Highly recommended to ask moms!
19/08/2021
Great travel monitor
We bought this to use while traveling or visiting family. I liked that it didn't require wifi connection and that it can pan/tilt directions. Great buy!
09/08/2021
Great product
Like this baby monitor - simple and effective. The monitor I received stopped working after 4 months. The customer support was great and I received a replacement promptly after contacting them. Will definitely recommend.
26/07/2021
MUST HAVE!
I love this camera. I'm writing this review a year later to let you know this was totally worth the money. It's durable, long lasting battery, it's bright with colors during the day and has amazing night vision at night!It picks up on sound perfectly and with all the bumps and bruises its endured it's still working amazingly.
19/07/2021
There are no faqs for this product.
Baby Monitor
Screen Size
3.2"
Video Resolution
320*240
Battery
750mAh
Pan Tilt
×
Zoom
1
Infrared Night Vision
√(visible)
Connect Up To
1
Night Light
×
Lullaby
8
Temperature Sensor
√